WHY START NOW?
I know there are a lot of things you're supposed to look for when it comes to potty training prepping. But because Jackson has Autism, we're looking for different clues of being ready. With his very limited communication, any indicators must be taken seriously so the fact that he's showing discomfort & pulling at his diaper when he's wet is a MASSIVE indicator. He's letting us know he doesn't like the feeling so clue #1. #2 was he's mastered "sitting" in his programs - he'll sit down when told & stay a majority of the time. #3 is it's the next step in his ABA therapy. Not saying that he should be potty trained at this time - this is the next step in all of ABA programs with this company to see if the kid is capable of being potty trained at this point. There are kids that are almost 5 years old that aren't potty trained but they don't know it until they have this week of solid effort.
We agreed to starting now because he's letting us know & cloth diapering 2 babes is A LOT! I swear my house smells like like dog, ammonia & literal shit so if we can help it, we're trying potty training.
THE PROCESS
Each session is in hour increments all day long. He starts by sitting on the potty for 50 min then a 10 min break. If he pees on the potty during the 50 min, he gets praised, a chocolate chip & gets a 30 min break - regardless of how much time is left. The time also changes to 40 min on, 20 min off. If he has an accident during the reward minutes or ending of the session break, he goes back on the potty immediately. The time then also goes back up a tier to more time on the potty. During nap & bedtime, he's in a diaper. Make sense? & because he's Autistic, someone has to be sitting with him the entire time he's on the toilet. Can you imagine me doing that with an infant?? It's not fun & our bathroom is small. So I'm IMMENSELY grateful our ABA therapists have taken the reigns & sit with him in the bathroom & watch all his weird YouTube videos. We're aware it's an incredibly intense process.
During his breaks, he's either bareass or wearing his these training underwear.
DAY 1
We had a morning [830-1130] & PM 1 [3-6] session of potty training through his ABA therapists. I woke him up around 745 & placed him directly on the potty. Within 5 minutes, he peed!! So he got a chocolate chip [our designated reward] then 30 min off where I did put another diaper on him because it was still early & I wasn't sure how they wanted to start.
He ended up peeing 1 more time on the potty that day & we had a big party! Lots of praise, loud cheering, immediate reward & 30 min outside [sounds like a dog].
FEELINGS ABOUT THE DAY: THIS IS GOING TO BE A LOT. MORE PATIENCE TESTING. BUT I HAVE HOPE!
ACCOMPLISHMENTS: HE PEED IN THE POTTY ON DAY ONE WITH A COUPLE ACCIDENTS DURING HIS BREAKS.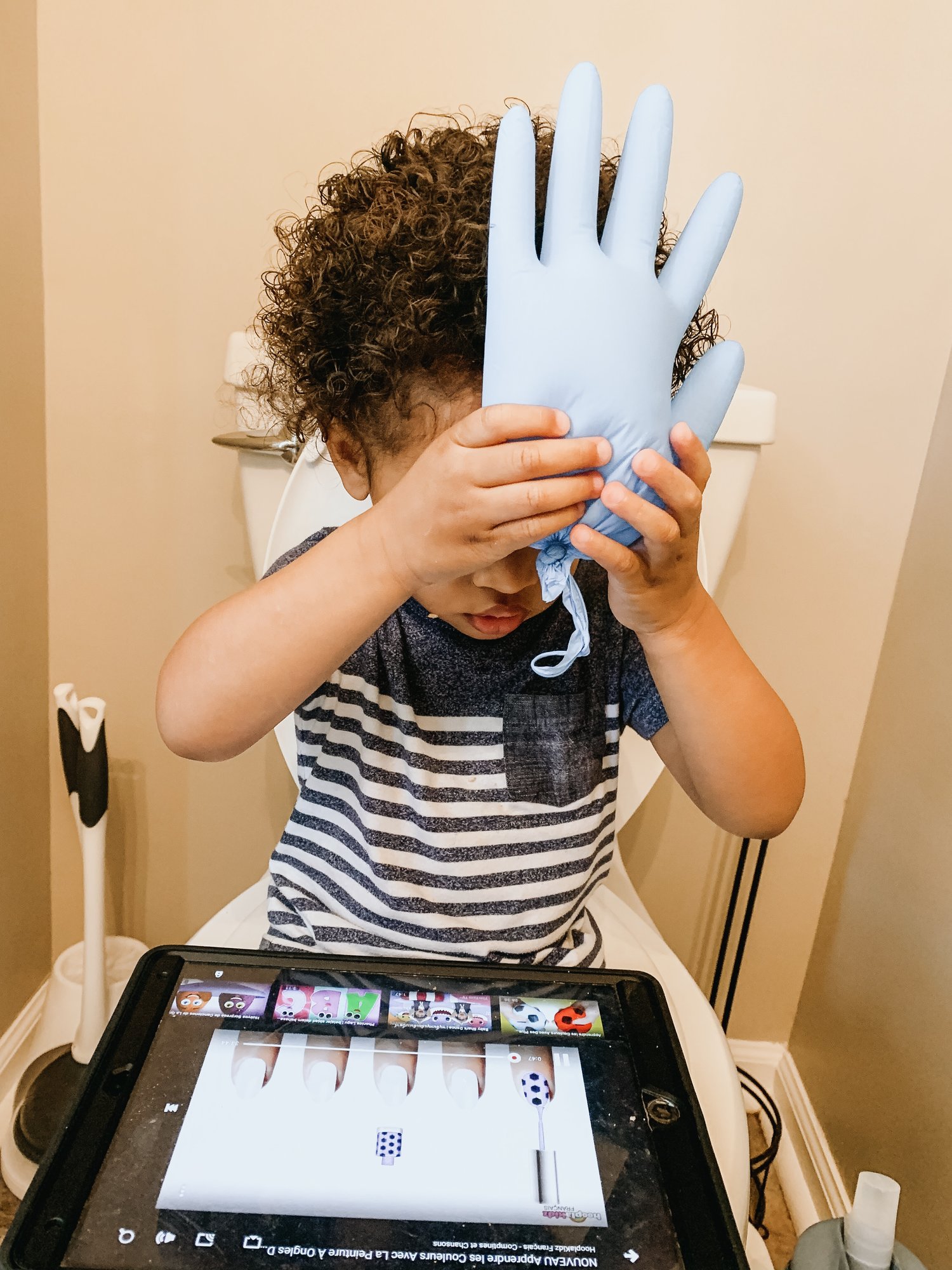 DAY 2
Started him in a diaper until his ABA therapist got here at 830 [sitting with him & Miles for an hour in the bathroom first thing isn't happening]. She took over until 12 where he didn't pee in the potty at all. He did have an accident during one of the 10 min breaks though. I upped his time to 55 min on / 5 min off for his final session before bed because I wasn't sure he was really understanding what the goal was. He wasn't making it completely through each 10 min break - he'd always have an accident the final minutes. So I talked to his therapists & they cleared the change. Still no peeing before naptime so he got a diaper for nap.
After nap, Matt took over & I nearly lost it. 30 min in, he said he thought J peed so I, super anxious to celebrate Jackson, came downstairs all kinds of loud, have him a chocolate chip as Matt put his trainers on. Not 3 min later,he soaked his underwear so I had to pick him up [crying & screaming] & put him back on the potty. Basically I felt like the biggest shit bag of a parent, meanwhile Matt is just standing there like "I thought he peed. I wasn't paying attention." 😑 However, during the next hour, Jackson managed to have his first poop on the potty 🤗 so we had a BIG celebration, he got 2 chips & 30 min off in his training underwear. Then after that break, I put him back on & he peed not 5 min later!
FEELINGS ABOUT THE DAY: ALL OVER THE PLACE. HIGH HIGHS & LOW LOWS BUT MOVING FORWARD!
ACCOMPLISHMENTS: FIRST POOP ON THE POTTY & FIRST BACK TO BACK PROPER USE!
DAY 3
I am beyond defeated. He peed on the potty as maybe 30 min into the first session of the day to start us off on a good note then didn't pee again. Or so I thought. The morning was rough because we had no OT, Speech 10-11 [no potty training] then an hour to eat lunch & get an hour of training in before naptime & I had to be on a video call. In that hour, J managed to pee without me knowing because I was running around with Miles & trying to get shit done. So I missed a celebration & probably set up back [I realized it when I took him off & saw pee in the toilet]. He napped in a diaper than had a full 3 hours with his evening ABA therapist [while I sulked & cried upstairs being hard on myself]. Then 5 min before 6, HE POOPED ON THE POTTY AGAIN just in time for his therapist to see!
FEELINGS ABOUT THE DAY: WORST DAY YET FOR MYSELF.
ACCOMPLISHMENTS: POOPED ON THE POTTY AGAIN!
DAY 4
Probably the best day yet!! He used the potty 4 times properly!! However, Matt had a weird realization that we've been tracking incorrectly. Like instead of just going back in a 10 min increments, we're supposed to go back to 50 / 10. But he got to watch a couple movies with Caitlin [therapist] on the couch because he got so many 30 min breaks!
FEELINGS ABOUT THE DAY: SO MUCH HOPE THAT IT'S CLICKING!
ACCOMPLISHMENTS: SO MUCH PROPER POTTY USE!
DAY 5
Ok. So originally, I thought this would be the final day of potty training. What world was I dreaming of?? The end goal is him taking us to the bathroom by himself. That DEFINITELY not happening today but it's fine.
We moved back to 50/10 even though we made it to 30/30 at the end of yesterday. Matt swore we were tracking wrong - turns out I was right & the incremental move backs are the correct way. However, we're not sure J has really caught on to the concept yet so we're starting at the beginning.
FEELINGS ABOUT THE DAY: CONTENT. THOUGHT WE'D BE FURTHER ALONG BUT IT'S OK.
ACCOMPLISHMENTS: POOPED ON THE POTTY FOR A 3RD TIME! APPARENTLY THIS IS SOMETHING THAT HAPPENS LATER ON SO IT'S JUST A MATTER OF IT CLICKING WITH J & HE'LL HAVE IT.
We continued potty training into the week but on Sunday, we determined this isn't the right time for Jackson - he's not ready. According to the program he's been working on, he should have shown some sort of significant sign of understanding proper potty use, when all we think he's really latched on to is holding his pee & that he really, really loves chocolate chips [can't blame him].
This is not a failure. We really hoped he'd be potty trained by the end of this week according to the companies track record but there is a percentage of kids that aren't potty trained until 3 or older. & THAT'S FINE. Like I stated before, we were starting because we thought he was ready. He showed some signs of it but you never really know until you've tried.
Throughout this week, we learned things that worked with him, things that don't work for us & so on. We'll come back to potty training again when he's closer to 3 years old [another 8 months] or if he indicates a strong desire to start again before then. Until then, we'll continue cloth diapering 2 babes & I look forward to the day we come back to using our adorable training underwear.