Alrighty, here we go again! Around this time last year, we attempted potty training Jackson through the ABA company we had recently started with. Unfortunately, the week resulted in it not clicking with Jackson & we honestly think Jackson just didn't understand the concept. He was young [2 years old], had recently mastered his sitting program but sitting on a toilet for a better part of an hour still sucks, etc. & it was fine!! As intense of a week it was, we agreed that we'd come back around to this next year when he'd have been with the company for another year & was another year older.
To read about Part 1, CLICK HERE.
WHY DO WE THINK HE'S READY NOW
He wasn't taking us to the bathroom when he's wet but he had started shoving his hands down the back of his diaper the last month. Not that it's something kids don't do but he really only does it when he's wet & uncomfortable. He also still snuggles like crazy on someone out of the blue when he's wet!
HOW AM I PREPPING
I hate cleaning the bathroom but I went IN on the downstairs half bath because his ABA Therapists will literally be sitting in there with him for hours. So DUH, Ima clean the bathroom. I also went to Dollar Tree & got a bunch of cheap "new"toys for when he's on the toilet to try to distract him from the time. Like a little basketball hoop, sensory toys & cardboard books.
Mentally, I'm asking questions on his progress, regressions, etc so I know what to expect when it's our shifts. I'm also planning to be more gentle with myself & not take any regressions as a personal thing. Basically not trying to cry this week lol.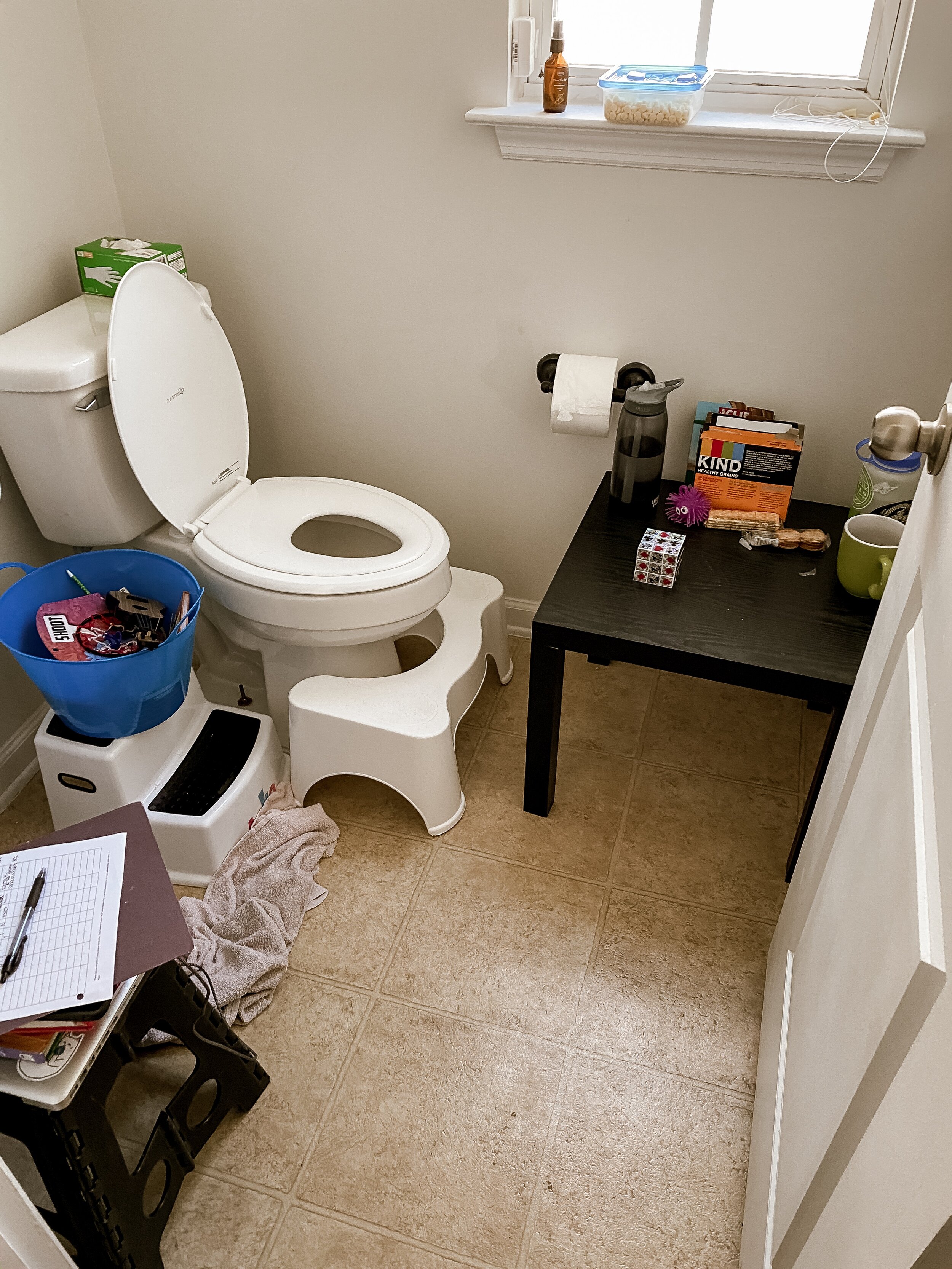 THE SYSTEM
Whenever he shows any curiosity about the bathroom [whether it be he thinks he needs to go, is exploring, etc.], we take him in & place him on the toilet for at least 1 minute. If he doesn't do anything, that's fine. If he does, we celebrate, make him have a sip of water then reward with a chocolate chip. "Sip then chip" All while sitting on the toilet. We realized last time, we were focusing too much on the time off & on the toilet when in reality, the concept probably didn't connect with him. We needed him to connect when you use the toilet properly, you get a reward.
TIPS FOR THE 2ND TIME AROUND
We have a baby gate ready to keep Miles & the dogs out but keep J in [not trying to shut them in the bathroom because that's gross].
Encourage drinking from his water bottle with IF/THEN language. Take whatever toy he's focusing on & say "if you drink, then you get the toy back." It's something we've been working on with him in therapy.

Offer therapist coffee & food each session, even if they're pulling doubles because they are real people helping you out. Take care of them!

Not stressing the accidents because he's a kid!

Have a charger in the bathroom for the iPad & therapists phone. Also a platform of some sort to set their folders, toys, water bottles, etc on rather than the floor. Also a seat for them to sit on as well.
DAY ONE
Started with 50:10 with Tabatha at 9am. She was here & sat with him until 3pm when I took over. He had a couple accidents but also had a few wins, like multiple pees on the potty AND a poop! Something to note: the time off the toilet is by far the most stressful part of potty training. Constantly having to watch him to see if he pees or is about to? STRESSFUL. At least when he's on the toilet, he's contained.
END OF THE DAY THOUGHTS: THIS TIME IS SO MUCH MORE PROMISING! JACKSON TOLERATED SITTING IN 1 SPOT FOR LONG PERIODS GREAT! READY FOR DAY 2.
ACCOMPLISHMENTS: HE HAS CONNECTED THAT 1. CHOCOLATE CHIPS ARE HIS REWARD IF HE USES THE POTTY CORRECTLY & 2. YOU'RE SUPPOSED TO PEE IN THE POTTY! HE DOESN'T UNDERSTAND IT COMPLETELY BUT WE CAN TELL HE KNOWS SOMETHING WHEN HE WATCHES HIMSELF PEE.
DAY TWO
Went practically all day without an accident & had been trying to poop literally day. Lots of grunting & finally pooped in the final hour of the day in the middle of the living room on the floor HAHA. Still a great day though. He was leading us to the toilet nearly 75% of the time. We took him the other times when we noticed him giving us cues [looking at himself, touching himself, etc].
END OF THE DAY THOUGHTS: BECAUSE HE'S DOING SO WELL ON THE TOILET, HE GETS MORE TIME OFF & THAT'S BY FAR THE MOST STRESSFUL PART. GOOD THING WE TOOK UP THE RUG.
ACCOMPLISHMENTS: MULTIPLE PEES IN THE POTTY & A POOP, EVEN IF IT WAS ON THE LIVING ROOM FLOOR. HE'S NOT HOLDING IT IN! ALSO MILES HAS TO BE INVOLVED NEARLY EVERY TIME WE GO TO THE BATHROOM & CHEERS HIS BROTHER ON WHEN HE GETS A CELEBRATION!
DAY THREE
Pooped on the floor again & also had a pee accident on the trampoline outside during a break but still a great day! Lead us to the toilet nearly 90% of the time but could also be too smart for the system. He was starting to take himself in the bathroom, literally squeeze/grunt out a few drops then was looking to us for celebration & praise. We wanted to continue the message of proper toilet use so we did give him a chip each time for a few hours until we realized he'd broken the system [smart kid]. So we started to still celebrate his effort but no chip until he made a stream.
END OF THE DAY THOUGHTS: THIS DAY LAST YEAR, I WAS IN TEARS & COULDN'T HANDLE THE STRESS. NOT ONLY IS JACKSON HANDLING POTTY TRAINING BETTER THIS TIME AROUND, SO AM I!
ACCOMPLISHMENTS: CONNECTED THE DOTS FOR THE SYSTEM. KNOWS EXACTLY WHERE THE BATHROOM IS & WHAT TO DO WHEN HE HAS TO PEE. JUST NEED TO WORK ON POOPING. NO TEARS!
DAY FOUR
Originally was hoping we'd be able to put him in training underwear & pants today to go back outside but no rush! He grunted all day again trying to poop & actually did TWICE on the toilet! He did have a true accident in the living room with pee - like legit started to trickle on his own, realized it & stopped. Other than than that, great progress!
END OF THE DAY THOUGHTS: I CANNOT BELIEVE THIS IS GOING SO SMOOTHLY. EVEN WITH THE ACCIDENTS HE'S HAD, IT DOESN'T TAKE AWAY FROM THE MULTIPLE WINS.
ACCOMPLISHMENTS: HE POOPED ON THE TOILET TWICE & INITIATED EACH TIME!! FIRST TIME WAS WITH THE THERAPIST & 2ND TIME WAS WITH ME!
DAY FIVE
Because he's been having such a great week, we really wanted to get him back in a pair of training underwear & pants to go outside for a little bit. Just to get some fresh air & break the rotation of Storybots for the 5th day in a row. We did make it outside for just over 30 min with no accidents & even let him come inside to pee in the middle of the time frame to show Jackson it was an option. He did have a small accident in his underwear which knocked him back to 55-5 then maybe 30 min later, another honest accident in the living room with no underwear on which took us back to 50-10.
END OF THE DAY THOUGHTS: THIS TIME AROUND HAS BEEN SO DIFFERENT & WE'RE SO GRATEFUL FOR CCBS. IT'S CLEAR JACKSON WASN'T READY LAST YEAR & THAT'S FINE BECAUSE HE WAS THIS TIME. HE'S MADE THE CONNECTION & NOW IT'S JUST A MATTER OF REALLY DRIVING IT HOME & GETTING HIM [& MYSELF] COMFORTABLE WITH LEAVING THE HOUSE IN TRAINING UNDERWEAR.
ACCOMPLISHMENTS: HE POOPED ON THE TOILET AGAIN BY HIMSELF & COMPLETELY INITIATED IT! PHENOMENAL WAY TO END POTTY TRAINING WEEK!
All in all, this was a phenomenal week of potty training. Very little tears were shed [none by me] & Jackson has definitely caught the jist of using the potty properly. The next steps are keeping him in training undies all the time, if not just more nakedness at home & still taking him to the bathroom every 30 min or hour depending how he's been that day. Night time potty training is an entirely different boat & 100% not even on our radar right now but it'll come in time.
Whenever he leaves the house [therapy, daycare, trips out, etc], he will be in training underwear & pants & honestly THAT'S where my anxiety starts to dial up because I know he's gonna pee through all the things this first week but at least the space that was occupied by his cloth diapers will now be replaced by extra clothes, for the time being. We're just glad he's successfully peed & pooped in the potty properly & moving forward from there!
Honestly, it was the connection of him understanding he got rewarded for using the toilet correctly that wasn't there last year. We focused too much on the time off as his reward thinking he would understand it & he clearly didn't. Everyone was a year older & wiser this time around so we're very grateful it clicked! Now just to work on it outside the house..