"A VACCINE IS A BIOLOGICAL PREPARATION THAT IMPROVES IMMUNITY TO A PARTICULAR DISEASE. A VACCINE TYPICALLY CONTAINS AN AGENT THAT RESEMBLES A DISEASE-CAUSING MICROORGANISM, AND IS OFTEN MADE FROM WEAKENED OR KILLED FORMS OF THE MICROBE, ITS TOXINS OR ONE OF ITS SURFACE PROTEINS. THE AGENT STIMULATES THE BODY'S IMMUNE SYSTEM TO RECOGNIZE THE AGENT AS FOREIGN, DESTROY IT, AND "REMEMBER" IT, SO THAT THE IMMUNE SYSTEM CAN MORE EASILY RECOGNIZE AND DESTROY ANY OF THESE MICROORGANISMS THAT IT LATER ENCOUNTERS."
— WORLD HEALTH ORGANIZATION [WHO]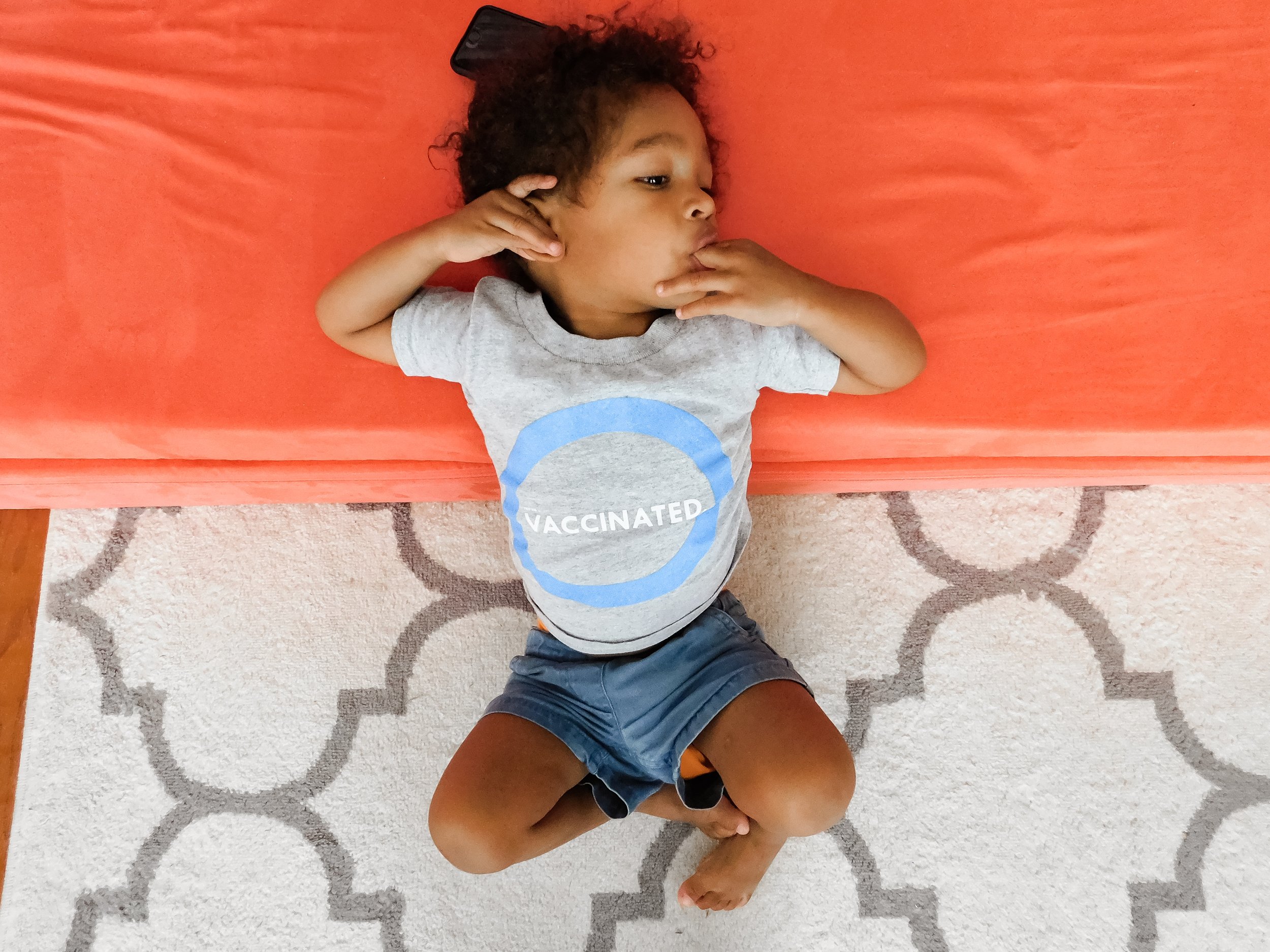 FIRSTLY, if you're here at this blog post reading this, you already know my family vaccinates. If you're here to try to convince me otherwise, you can leave. SECONDLY, this entry will be discussing an extremely controversial topic but it's not meant to start an argument. If anything, start a discussion & just passing along some additional information.
As you know, my oldest son, Jackson, was diagnosed with Autism Spectrum Disorder late 2018. After the initial shock & starting the navigation of what we needed to do next, I started receiving messages that his diagnosis was caused by getting him the MMR [Measles Mumps Rubella] vaccine. Not only was this a very sensitive & fragile time for us when we're already wracking our brains trying to find a cause, people were blaming our parenting. TALK ABOUT HURT.
For those curious of the REDACTED PAPER written in 1998 by Andrew Wakefield that stated the MMR Vaccine causes Autism, here it is. Wakefield has since been stripped of all titles & the paper has been proved completely false, inconclusive & discredited.
However, once a scientific finding is released that something as widespread & [then] common as vaccines was dangerous & leads to developmental delays, panic spreads & people begin to deter from them. I GET IT! You're looking to keep your kid & your family safe. However, RESEARCH. Who wants to talk myths?
MYTH 1 - VACCINES CAUSE AUTISM
I've linked the paper above & it's been since proved as false. & even if it did - I'd rather have a child with Autism than a dead one. ESPECIALLY if they died from a preventable disease. NEXT.
MYTH 2 - NATURAL IMMUNITY IS BETTER THAN ONE THAT'S RECEIVED VACCINES
To a degree - yes, this makes sense. However, it doesn't apply as a blanket statement for all diseases. Also it's danger doesn't outweigh it's possible pros. For example: if you caught the Measles on purpose to build an immunity rather than got the vaccine, your chances of dying are about 1 in 500 whereas if you received the vaccine, your chances of dying are 1 in a million. My family chooses to get the vaccine & accept that possible fever over an increased chance of life.
MYTH 3 - VACCINES CONTAIN UNSAFE TOXINS
Probably one of the most common arguments from 'anti-vaxxers', if not the driving force. If you're curious what goes into vaccines, here is a list. Yes, components like formaldehyde, aluminum & mercury are present in vaccines but in controlled amounts that make the vaccines themselves FDA approved. But a lot of people don't realize that small traces of these toxins are already in our body, specifically formaldehyde. The concern should be in the amount use din the vaccine rather than the toxin itself. & of course, the use of antibiotics with the concern of allergic reaction. I'm here to say that there have been no allergic reaction to antibiotics in vaccines.
MYTH 4 - INFANT IMMUNE SYSTEMS CAN'T HANDLE ALL THE SHOTS
Because babies are these fragile, new little beings, we want to be extremely careful of everything they come in contact with. Don't even get me started on people kissing newborns then the baby contracting from them [this isn't a call to get vaccinated. This is a call to not fucking kiss a baby when you're sick. COMMON SENSE] The list of vaccines newborns are scheduled to receive can be a little daunting. But with proper research, you can feel more comfortable with your decision. The point of these shots being delivered to newborns is to get an early step on now preventable diseases. & their immune systems are much stronger than we think! It is a more concentrated amount of information but because babies are so new, the cells in the system are constantly being replaced.
MYTH 5 - VACCINES INFECT MY CHILD WITH THE DISEASE IT'S TRYING TO PREVENT
To clear this up, there has been 1 reported incident with OPV decades ago when an actual weakened version of the disease, rather than a genetic make-up was used. Vaccines can cause very mild symptoms that some misinterpret as the beginning symptoms of the disease itself but it never goes further than that.
MYTH 6 - BEING EXTREMELY CLEAN AND EATING CORRECTLY HAS A GREATER EFFECT THAN VACCINES
I'm not going to say you're naive if you believe this but to a degree, COME ON. Unless you're living in a sterile clean hospital like environment bubble, never to leave or have any visitors, I'd say maybe. But that's also extremely unrealistic, especially if you have kids. I'm not gonna say 'eating right is bad' because THAT'S naive. Diet & nutrition impact your overall health greatly & in some cases, can make or break it. However, you can't believe if you stick to a strict diet, you'll never need a vaccine. There are numerous factors that can come into account when it comes to health but when you break them all down to their categories, vaccines have the numbers.
MYTH 7 - DON'T NEED TO VACCINATE BECAUSE INFECTION RATES ARE ALREADY LOW
Do I even need to bring up the report of increased Measles this year? "Herd immunity" is an incredible concept & has managed to keep a lot of people, both vaccinated & not, healthy! Specifically to those that are unable to get vaccinated; elderly, auto-immune diseased or young. However, due to recent [in the last 2 year] decrease in receiving vaccinations, these preventable diseases are having the opportunity to develop & spread, rather than be beat early on like vaccines are designed for. I can't speak for those that chose to not get vaccinated but I hope it's not the case of 'these diseases don't exist anymore' but that's only the case BECAUSE of vaccines.
Science & technology is ever changing & always improving. Data & reports will change but the science is there - vaccines save lives & do not cause Autism. Much like how Matt & I learned with Jackson's diagnosis, early intervention is key. It's a lot to absorb early on but after researching, it comes down to doing right by your kid & yourself. In my opinion, the benefits of vaccinating outweigh the risks. My family will continue to get whatever shots we see fit to prevent diseases because SCIENCE & I hope this as helped you make your decision for your own family.
Shirts by This Kid Clothing